Your #1 Guide To Buying Diamond Earrings in 2023
Mens hip hop earrings are perfect for upper class people who want to show off their status and make a bold statement confidently. Since Ancient Egypt, fashionable men have been wearing earrings. Different styles have come out from time. Everyone can find something that fits their personality and fashion sense, especially for the hip hop lovers.
However, finding the best diamond earrings for men can be tricky, especially if you are new to buying hip hop earrings.
Don't know how to choose the right one from incredible number of options? This five-step guide will teach you everything you need to know about picking out best earrings for men. It only takes you two or three minutes to read over the article. But you'll benefit a lot from it, trust me! Keep reading.
Table of Contents
1. On what occasion to use a men gold earrings?
2. Five-step guide to buying diamond earrings online
3. The best mens earrings - Our final advice
1. On what occasion to use a men gold earrings?
Several occasions call for unique mens earrings, such us business meetings, night club, prom, weddings, etc. These bling earrings are a nice touch for you to stand out from the crowd and they are must-have men's accessories jewelry.
As a stylish hip hop men, you may want to join the ranks of rapper stars who sport a diamond stud, not only for using them on important parties, but also for upgrading your every day look.
If your job requires regular public speaking, diamond earrings can make you look more confident and polished.
2. Five-step guide to buying diamond earrings online
If you are going to buy diamond earrings online, do read the tips below before placing the order.
I. What earring style catches all eyes?
While the design of diamond men earrings is simple, there are thousands of style variations for you to choose from. To narrow down, we list some trendy mens earring styles for your reference here. These mens earring styles could catch your eye definitely.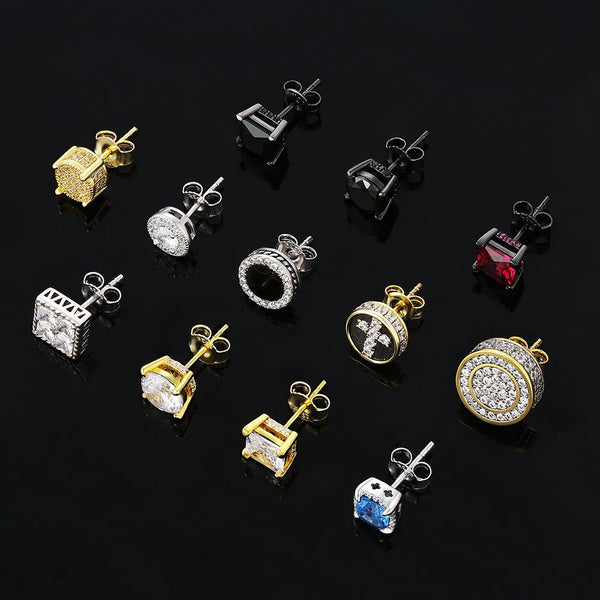 a. Round cut diamond earrings
As we know, diamond stud earrings have been a top choice among stylish men for hundreds of years. And solitaire stud earring has been enduringly popular.
If you are looking for a pair of classic diamond studs for men, these solitaire earrings are perfect. The round cut is known for its brilliance and sparkle, perfect for night out.
b. Square diamond earrings mens
These rapper earrings available at Laie are single-cut diamonds that have been set into a paved pattern in the metal backing. The beauty of pave diamond earring is that you get all the sparkle of a larger diamond.
c. Cross diamond earrings
These unique diamond earrings have various extra features that make it very special. These earrings is filled with shiny cz stones which makes them both stylish and powerful.
The diamond hoop earrings men has a bigger surface area for the eye to see. This can increase the amount of light the diamond gives off, making it brighter in such a small setting. This is an ideal option for people who wants it all.
d. Ruby diamond earrings
These stud earrings are an excellent gift for any guy, whether you are shopping for your husband, boyfriend, dad, son, or brother. Men typically are not big jewelry wearers, but there is a big exception for small diamonds. This everyday wear studs will look fantastic no matter where the day takes him: at work, on a date, or out with the guys.
Particularly, it has style with black diamond. This unique look of black diamond stud earrings mens is something that will really attract all attention.
e. 15mm mens silver hoop earrings
These bling hoop earrings can be worn by men who want something light on their ears and relatively low-key. With a shiny silver/gold hue and round design, these will be the perfect accessory for your everyday look. If you want something simple yet elegant, these studs are perfect. They are noticeable and will go with anything you choose to wear on your ears.
II. Focus on Cut for diamond stud earrings
For stunning diamond earring, you have three main choices—round cut, princess cut, or square cut.
The round-cut diamond is brilliant and sparkly, whereas princess diamonds usually add a hint of kite-shaped glitter. Square-cut diamond studs are edgy in their own right but will still add color to your face when worn. Round cut studs are a classic for any occasion, but princess cuts are square shaped and look bolder. In general, bigger is not always better for diamond stud earrings; a smaller size can be just as impressive.
III. What is your diamond stud earring made of?
It's extremely important to learn about the materials of your diamond stud earring before you place the order. Some metals are more susceptible to damage than others and will require additional maintenance to retain their luster.
<Check Laie jewelry care instruction here>
Gold has been popular for hundreds of years because it is easy to maintain and unlikely to tarnish. It also has a certain appeal that many people feel is hard to replicate with other materials. But gold vermeil with higher quality will run a higher price tag. Gold plated base metals will be more affordable.
Platinum is another metal that appeals because it never tarnishes, so you don't have to worry about replacing or repairing it over time. It does not scratch easily and holds its shine like gold does but tends not to be as popular in diamond earring designs because it is more expensive than gold-filled or gold-plated options.
Which material to choose? It's up to you, depending on how much maintenance you're willing to give.
IV. Find the safe earring backing type
Diamond stud earrings come in all shapes and sizes, but they all have one thing in common: backings. If you are used to wearing regular hoop earrings or post-style earrings, diamond studs can be tricky at first.
Choosing an appropriate backing for your diamond stud is essential for long-term wearability. Ensure that the backing type is safe backing which is secure.
With 2.40 carats of diamonds, screw backs are a very safe option for these lovely earrings. Though some people find the threaded posts to be uncomfortable because they are thicker than standard posts.
Smaller backs can be used with smaller, lighter-weight studs. Larger earrings tend to be heavier and will droop if the backs are too small. You have to make sure the backs are large enough to support the size of the diamond studs.
V. Think about budget for buying earrings
Furthermore, consider your budget when choosing a diamond earring. There are different diamond earring styles out there, but every design has a price point depending on how much bling you are after. It is not necessary to break the bank to buy vvs diamond earrings so as to look like a million bucks. Diamond simulants at Laie like cubic zirconia look just like the real thing without "real thing" prices.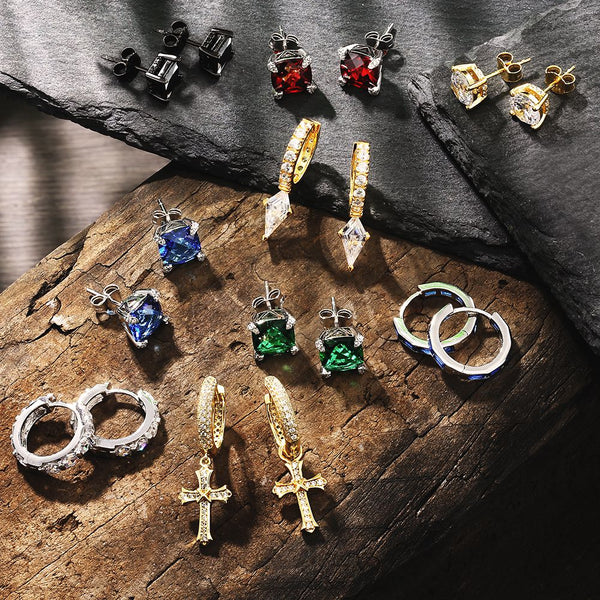 The best mens earrings - Our final advice
The perfect stud earring should be modern and elegant, iconic yet bold, and still draw a crowd. At Laie, we offer various types of diamond stud earrings to suit all occasions, different styles, and needs. You can choose the suitable without the exorbitant price tag one to show off.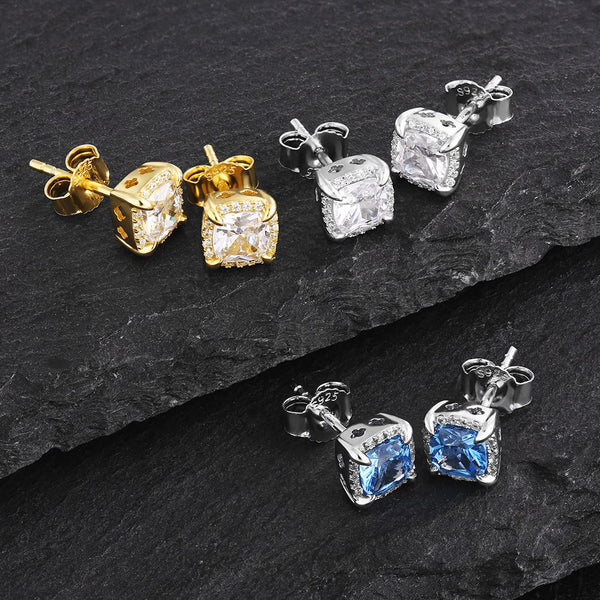 We are committed to providing quality jewelry at affordable prices, which will suit for those who has limited budget but searching streetwear earrings to last longer.
We have years of experience working with bling jewelry and strict quality assurance on every aspect of production, so you can rest assured that your purchases will be worthy of our name.
You can also easily combine with other urban jewelery, such as a cuban necklace or gold plated bracelet mens. This allows you to create multiple matching sets.
One more thing, always trust your instincts when it comes to diamond earrings.
Related external sources
[1] Diamond cut: The cut of a diamond greatly affects a diamond's brilliance; this means if it is cut poorly, it will be less luminous.
[2] Hip hop fashion: Hip hop fashion (also known as rap fashion) is a distinctive style of dress originating from Urban Black America and inner city youth located in New York City, followed by Los Angeles, then other US cities.